Official Funky Flies Merchandise Store
Welcome to the official Funky Flies Merchandise Store, where the FLY ARMY takes center stage! Here, you can explore our extensive collection of official Funky Flies products, ranging from T-Shirts and Coloring Books to Vans, Fanny Packs, and Stickers. With our diverse selection of merchandise, including hats, hoodies, Puzzles, and even Funky Fly Bug Spray, we're ready to meet all your needs. Much like a phoenix's triumphant rise from the ashes, our swarm is poised to challenge the formidable forces that have overtaken our world. We invite you to soar with us and become an integral part of the Funky Flies movement!

But there's more to the Funky Flies movement than just trendy merchandise. We are committed to making a positive impact on the world. As a part of our ongoing mission, we proudly give back to the Uganda Skateboard Society by donating 100 complete skateboards along with essential tools, grip tape, wheels, and more. Join us in this endeavor as we work together to empower and support this incredible community. Your involvement with Funky Flies goes beyond stylish merchandise; it's a chance to be a force for good, and we invite you to be a part of this journey towards change and camaraderie.
Our Customers
"I fell in love with the dog art on the skateboard dog bowls and they were super accommodating, professional, fast, and friendly! I highly recommend this company and I will be supporting them again in the future! Their communication was super fast also!"
Why Shop with THE FLIES?
PERSONAL FIT & STYLING
Designed for the FUNKY in your lifestyle.
Great Gift Ideas
Find some great gifts for the funky person in your life!
FLEXIBLE PAYMENT
We accept all major Credit Cards and offer interest-free installments for orders.
Open 24-Hours A Day
We are available and open for business every single day and holiday!
WE GIVE BACK
The Uganda Skateboard Society
Funky Flies is a lifestyle brand company based in Vermont and last year, we donated 100 skateboard completes to support The Uganda Skateboard Society.
Give Your Pet Some Funk
Limited Edition Funky Eyes Skateboard Deck Dog Bowls
Each setup is carefully crafted to last from our Funky Flies pro-quality skateboard decks, and come with 2 food-grade stainless-steel bowls and wooden legs. Take care of your dogs by keeping their food and water bowls slightly elevated for more healthy consumption!
IT'S GETTING COLD OUTSIDE
WARM UP WITY A FLY HOODIE
Follow us on instagram
@funkyfliesllc
Funky Flies LLC is a Merchandise & Accessories brand based out of Vermont. Fly Army on the Rise! #zzz #funkyflies #flies #LFG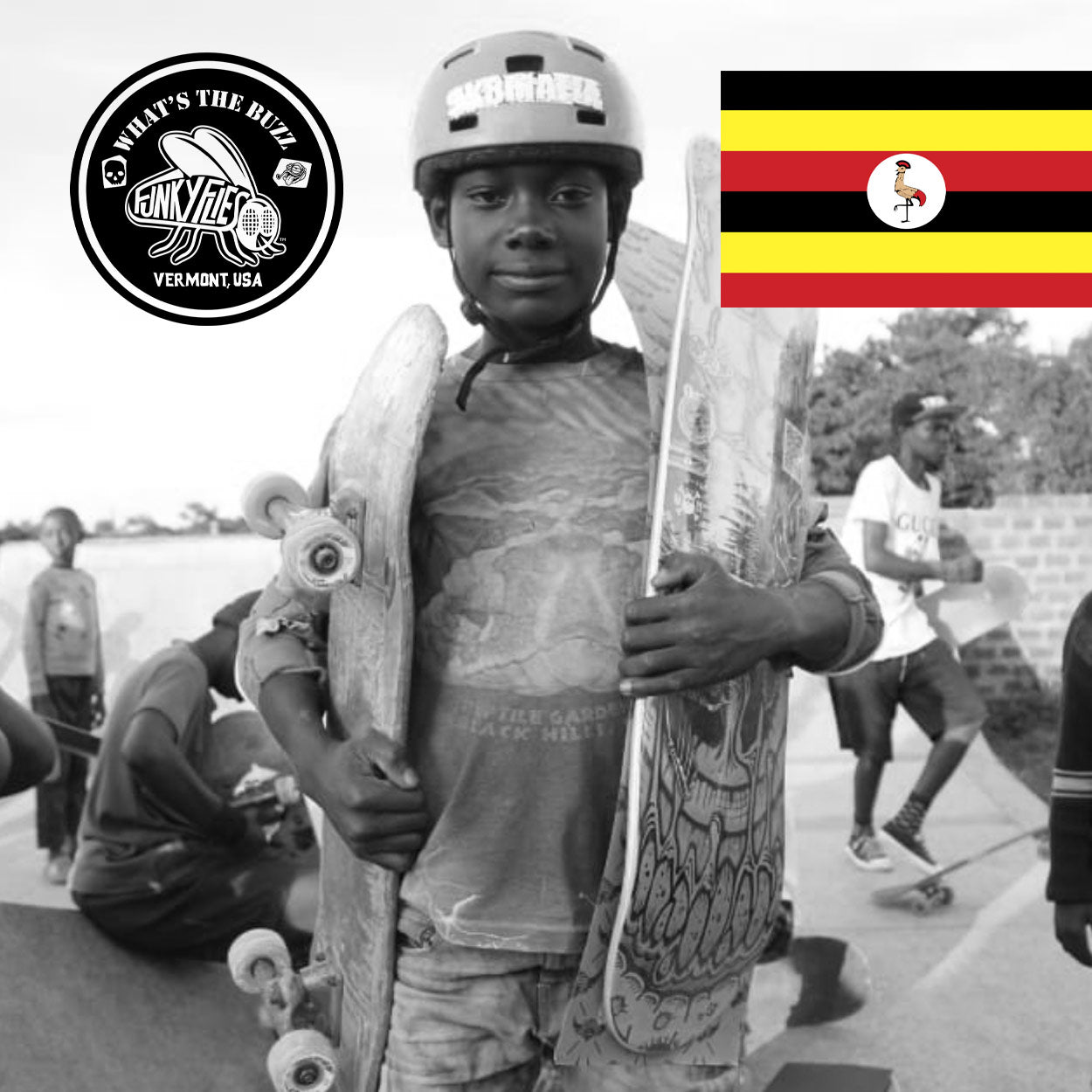 Introduction
Skateboarding isn't just a sport; it's a cultural movement that...